Smart Automotive Vehicle Applications
The best solution for high weather resistant vehicles
BenQ Materials manufactures polarizers for automotive and outdoor public displays with high weather resistance for the needs of the global automotive, electric vehicle and public display markets to cope with extreme climate changes around the world.
With the electrification trend of the global auto market, the demand for annular, curved, and large-scale applications has increased rapidly, and the demand for thinning polarizers driven by car space is also progressing at the fastest speed. BenQ Materials' automotive polarizer solutions provide the fastest large-scale adaptation for the automotive market, and are fully supplied regardless of special sizes or panel partitions.
Features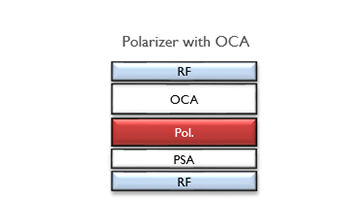 Sturcture:
BenQ Materials' high-weather-resistant vehicle display solution is based on the special ratio of IPS compensation film and OCA glue to meet the extreme needs of different countries in terms of climate. For surface treatment, AGLR, AR, HC can be selected for structural adjustment according to requirements.
Features:
Anti-fingerprint
Anti-scratch
Anti-glare
Low reflection
High weather resistance
Low shrinkage
Wide viewing angle
Certification
Tested by a third-party laboratory with actual heating and non-baking methods, the high temperature weather resistance can reach 105 degrees; the baking method can reach 95 degrees weather resistance.
Ues case
BenQ Materials is the world's top four key panel components - polarizer manufacturers, and is an important partner of global display indicator manufacturers. The main products for manufacturers are AUO, BOE, GIANTPLUS, JDI, SHARP, INNOLUX, LG Display, IVO, etc.; and the product line is extended to RVs, RVs, electric vehicles and other car models at all levels, and introduced into TOYOTA, Great Wall Motor, SAIC Group, BYD Motor, and other internationally renowned car manufacturers.
Specifications
| | | | |
| --- | --- | --- | --- |
| Mode | Surface Treatment | Compensation Film | Remark |
| IPS | AG/SAG/LR/AR | TAC | Car |
| VA | SAG | COP | PID |

Back to list