Materiality Issue Matrix
Collect Sustainability Issues
To understand the concern and expectation of important stakeholders on the sustainability issues of BenQ Materials, the GRI Sustainability Report Standards and manufacturing industry attributes are considered, and external relevant sustainability Report information is collected, in order to establish a survey questionnaire covering 17 sustainability issues. Through the survey conducted by responsible departments on the stakeholders, 334 copies of survey questionnaires have been collected, in order to understand the material issues concerned by stakeholders.

Opinion Survey on Concern Level
Statistics and analysis works are performed on the sustainability survey of stakeholders, and the concern level of important stakeholders is summarized, in order to provide such information to 10 senior supervisors of BenQ Materials for understanding. In addition, the survey questionnaires are also issued to allow supervisors to assess the possible level of impact of each issue on the economic, environmental and social aspects of BenQ Materials.

Determine Material Disclosure Issues
The concern level of important stakeholders, severity and probability of impact of the sustainability issues on the economic/environmental/social aspects of BenQ Materials are assessed. Accordingly 14 material disclosure issues are listed, and such issues refer to "Financial Performance," "Product Liability," "Talent Attraction and Retention," "Information Security," "Occupational Safety and Health," "Climate Change," "Air Pollution Management," "Energy Management," "Water Resource Management," "Sustainable Supply Chain," "Waste and Regeneration Cycle," "Sustainable Design," "Talent Development" and "Ethical Management." All these 14 material disclosure issues have been listed as the basis for the 2021 sustainability report disclosure.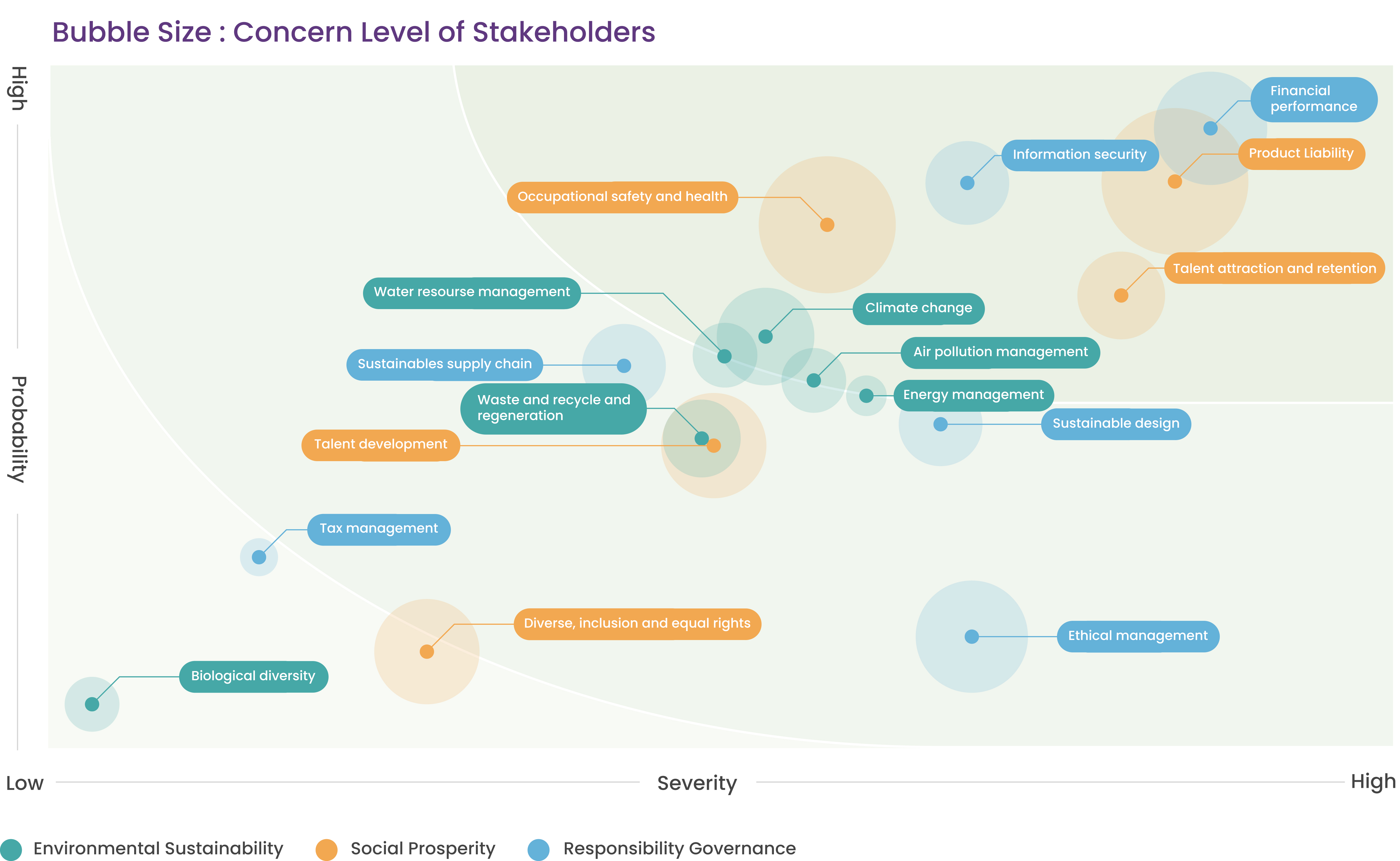 Bubble size: Concern level of stakeholders