Innovator in optical and materials technologies and applications
With years of accumulated experience, from materials development to process optimization, BenQ Materials has mastered primary (optics, formulation, synthetic polymer) and processing (roll-to-roll manufacturing, precision engraving, precision coating, injection & extrusion) technologies.

Based on these core technologies and insights into market dynamics, we have successfully extended applications to four major fields: Optical Films & Materials, Green Energy Materials, Medical Care Products, and Performance Textiles. From technologies to applications and laboratories to consumer markets, we believe that innovations in the application of materials science will lead to a creative future — one full of changes for the better.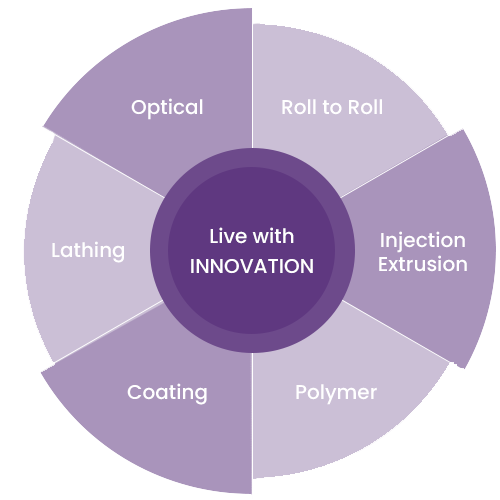 Top-notch R&D Team
To strengthen the company's R&D capabilities, we actively recruit from the fields of chemical engineering, physics, chemical materials, polymers, biology, and medicine. Teams operate in a culture characterized by a spirit cooperation, mutual learning and sharing, and a desire to probe fundamental causes. With this R&D strategy as a base, we aim to take a pioneering and leadership role in the field of materials science. Our goals are to:
Explore and grasp advanced technologies in materials science and obtain the relevant intellectual property.
Develop value-added products and components to meet customer needs and seize market opportunities.
Improve existing manufacturing processes and product quality in order to strengthen competitiveness.
Innovations Applied

With our continuous technological, applications and strategic innovations, our aim at BenQ Materials is to forge ahead and create a meaningful life for a future shared by all.