Architecture Use
The world's first green building material - the PDLC Smart Film
BenQ materials' PDLC Smart Optical Film can effectively protect your privacy by displaying see-through and matte effects when powered on/off, enhance energy saving with heat insulation and ultraviolet light isolation, allows better in-car interior space owing to high see-through from car sunroof as well as privacy, and capture high visibility in the global EV trend due to its adaptation of dynamic technology advances. With capabilities of allowing EV to realize aesthetics in future sense and excellent weather resistance under compliance of manufacturing safety specifications.
Features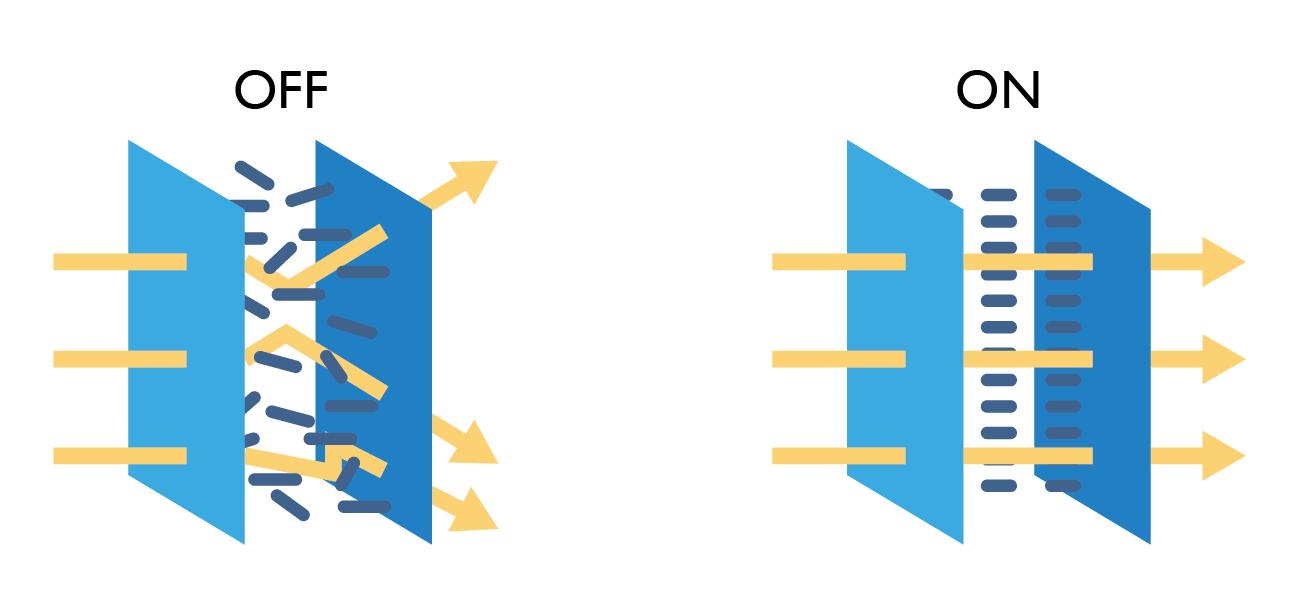 Sturcture:
The current product structure offers "adhesive" and "laminated" film. The adhesive film is suitable for renovating existing interior space on glass or acrylic depending on needs, while the laminated film is suitable for new space as it combines the PDLC Smart Film with glass through lamination, providing better protection than the adhesive film. These two products aim to provide diverse applications in the home, mobile, as well as commercial spaces, fulfilling the needs to switch between privacy and space, providing flexible scenarios for spatial application.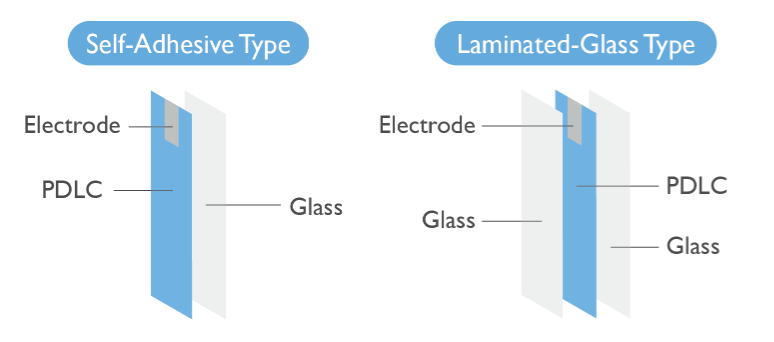 The adhesive film is suitable for renovating existing interior space on glass or acrylic depending on needs, while the laminated film is suitable for new space as it is laminated on glass, providing better protection than the adhesive film.

When the power is switched on, the liquid crystal polymers are neatly arranged, allowing the light to penetrate evenly, showing clear-glass-transparency. When the power is switched off, the liquid crystal polymers are irregularly arranged with light scattered in all directions, showing frosted-glass-matte effect.
Green PDLC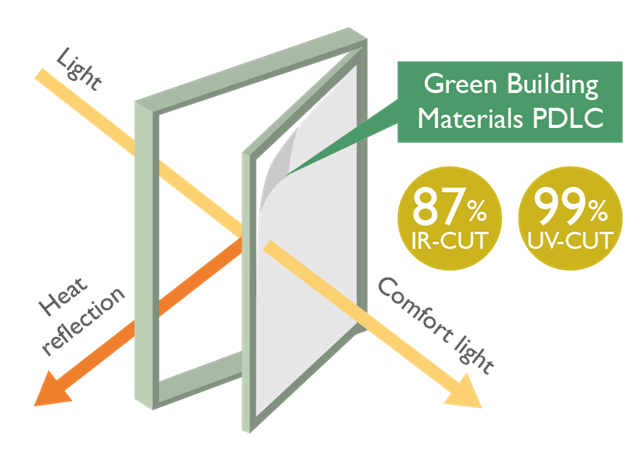 BenQ Materials PDLC Smart Film possess characteristics including second-to-none translucency and lower energy consumption. To fulfill our corporate core strategy - "achieving the true beauty of technological life", while developing material science, BenQ Materials is dedicated to making efforts towards the environment, hence the development of "the world's first green building material - PDLC Smart Film".

Thanks to its special manufacturing process verified by the green materials verification laboratory, the PDLC Smart Film can block 99% of UV and 87% heat, effectively reducing the energy consumption of home appliances. Our product is designed for the application of converting space transparency and privacy, further achieving the twin benefits of energy saving and carbon reduction.

As BenQ Materials PDLC Smart Film consumes very little energy and effectively blocks heat, adequate lighting can penetrate the room, reducing the consumption of air conditioning and carbon, making it the best option for sustainability.
Certification

At BenQ Materials, our internal verification and optical-grade laboratories offer the basic standards for product requirements by material science experts. In addition, to ensure the reliability of the tests, important data will be sent to a third part impartial organizations for double verification, ensuring the consistency of the product and quality.
As the PDLC Smart Film is made through a complex process, we must send our PDLC products to a testing & verification platform endorsed by national standards agencies to carry out high-standard experiments and tests. Furthermore, we have also invested in a laboratory designed to simulate the actual use of the product, which requires long-term testing & verification. This approach helps us ensure that we bring energy-saving benefits to our customers. Meanwhile, the PDLC products have passed the national criteria for green building materials and have obtained the environmental label for green building materials.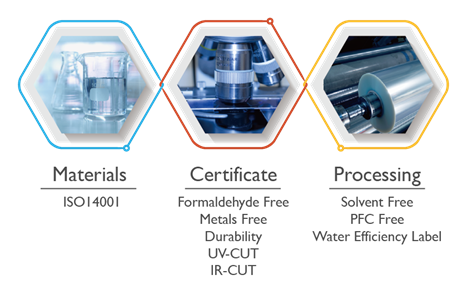 According to the data, the PDLC Smart Film can effectively block UV and heat in building spaces, making it a new option for all types of spaces and building materials. Moreover, as we insist on our products being friendly to the human body, during the green process of product manufacturing, we strictly adhere to the "3 no's", namely "no formaldehyde", "no heavy metals", and "no radioactive substances". Green building products are becoming the best new option for saving energy as well as reducing carbon.

▲ Our green demo house in National Cheng Kung University
▲ Actual test of the PDLC Smart Film on glass in the laboratory
Application
With the PDLC Smart Film flexibly applied to living spaces, commercial spaces, buildings, and car spaces, it brings endless possibilities to life.
▲ Bathroom

▲ Glass curtain wall

▲ Capsule office
Specifications
Laminated-glass Type

Self-adhesive Type

Flim Series

PDLC 97 (WH)

PDLC 97 (WH)

PDLC 97 EX(GR)

PDLC 97 EX(BR)

Thickness

0.11 mm

0.26 mm

0.33 mm

0.33 mm

Operation Mode

On : Transparent / Off: Opaque

Maximum

1,500 mm x 3,000mm





Optical Property

Visible Light Transmitt ance

> 87% (On)
> 76% (Off)
> 87% (On)
> 76% (Off)
> 66% (On)
> 58% (Off)
> 36% (On)
> 31% (Off)

Haze

< 4% (On)
> 97% (Off)
< 4% (On)
> 97% (Off)
< 5% (On)
>97% (Off)
< 5% (On)
>97% (Off)

View Angle

160°

UV-cut

17%

98%

99%

99%

IR-cut

60%

60%

87%

87%

SHGC (Solar Heat Gain Coefficient)

-

-

0.49 (On)
0.40 (Off)
0.38 (On)
0.32 (Off)




Electncd Property

Operation Voltage

48V (AC)

Frequency

50 ~ 60 Hz

Power Consumption

5-10 W/m²

Response Time

Off to On :< 10 ms / On to Off :< 200 ms

Operation Temperature

-10 ~ 60°c

Storage Temperature

-20 ~ 65°c

Back to list