Various Display Applications
Provide customized molds and large width molding solutions
Especially for the mold processing and molding process development of optical prototype components, it provides the optical structure required by customers, changes the optical path, corresponds to various applications of large-size curved displays, and provides naked-view 3D solutions to meet the needs of the end market.
Features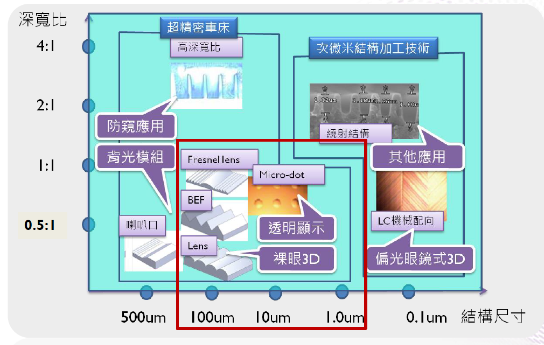 Sturcture:
BenQ Materials' patented microstructure processing and molding technology is an application through substrate and UV processing. In addition to providing solutions with polarizer projects, processing options are also available.
Processing projects include "one-dimensional distribution structure, two-dimensional distribution structure, micro-groove application, multi-angle processing technology, appearance parts processing" and many other applications, changing the visual effect of the display, in the anti-peeping requirements of the vehicle display, anti-reflection of the general display, solving The large-view role and the demand for curved displays play a key role.
Certification
Save environmental conditions

Save time

Temperature

20°C±10°C




6 months

Humidity(%)

65%±15%
▲ Precision carving preservation conditions
| | |
| --- | --- |
| Project | Test Results |
| Grid | pass |
| Hardness | H以下 |
▲ Characteristic test
| | |
| --- | --- |
| RA(500H) | YI |
| 60°C/90% | ≤10 |
| 80°C | ≤10 |
| -40°C | ≤10 |
| 85°C/85% | ≤10 |
▲ RA test
eye 3D solution
Structure:
It is made of Lenticular Lens Film through optical design, through precise engraving → curing molding → cutting → lamination

Features:
Can be designed for panel specifications, resolution PPI, required size, pixel arrangement, viewing distance, and desired number of layers

Existing Finished Applications:

Eye Tracking Naked Vision 3D Display
Size:10.1"
Panel resolution:1920x1080
View number 2view+Eyes tracking
Real time rendering 3D image
Can be integrated with touch

Naked Vision 3D Ordering Machine
Size: 15.6"
Panel resolution: 1920x1080
Number of Views: 9views (recommended for single use)
Other functions:
Capacitive floating touch (Single touch): 3~5cm, waterproof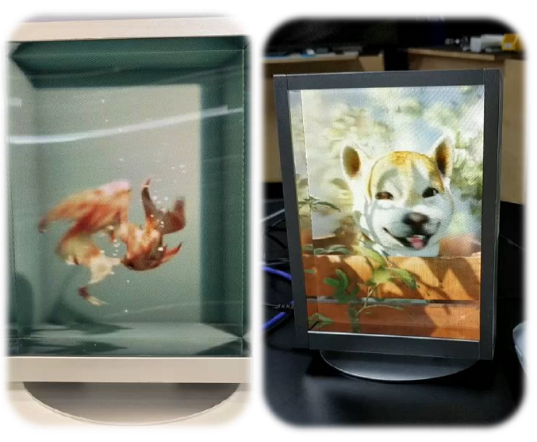 Terminal application naked 3D photo frame
Size: 7.9"
Panel resolution: 4K
View number 49view (holographic)
Other functions:
Can be connected to Bluetooth, built-in speaker, Android system
Application
| | | |
| --- | --- | --- |
| Specification | PC film | PC film + UV glue |
| Thickness | 125um | |
| Effective width | 730mm | |
| Refractive index | 1.6 | 1.5785 / 1.6162 / 1.6495 |
Specification

PMMA film

PMMA film + UV glue

Thickness

40um

Effective width

1.5

Refractive index

1.5

1.51

N1+N2 (UV)

1.61+1.51
Specification

PET film

PET film + UV glue

Thickness

100um

125um

188um

100um

125um
188um

Effective width

1000um

900um

900um

Refractive index

1.6

1.6

1.6

low refractive index

1.5

high refractive index

1.5785 / 1.6162 / 1.6495

N1+N2 (UV)

1.6162+1.5 / 1.6495+1.5
3D Lenticcular
Application

Machining

forming technology

Mobile

4.7"、5.8"

Lens Direct Engraving Mould
Double layer UV glue forming

Display

15.6"、27"、65"

Lens Mold
Single/double layer UV glue forming

Kanban

65"、85"、98"

Seamless Dies
Single/double layer UV glue forming
背光模組
Application

Machining

forming technology

Display

15"

Curvature diamond lens
Single layer UV glue forming

Display

17"

MicroDot Straight Machining
Single layer UV glue forming

Back to list