Sustainability Champion Wins Top Honor at the Taiwan Corporate Sustainability Awards
At the Taiwan Institute for Sustainable Energy's 16th Taiwan Corporate Sustainability Awards (TCSA) held on November 15th, BenQ Materials received the prestigious Platinum Award, the highest honor in the Sustainability Report category. The company also won the "GCSA Silver Award for Sustainability Report" for its English-language report. Such recognition from the judges of Taiwan's leading sustainability accolade reinforces BenQ Materials' endeavors and achievements in promoting various initiatives and becoming a leader in ESG for Taiwanese companies.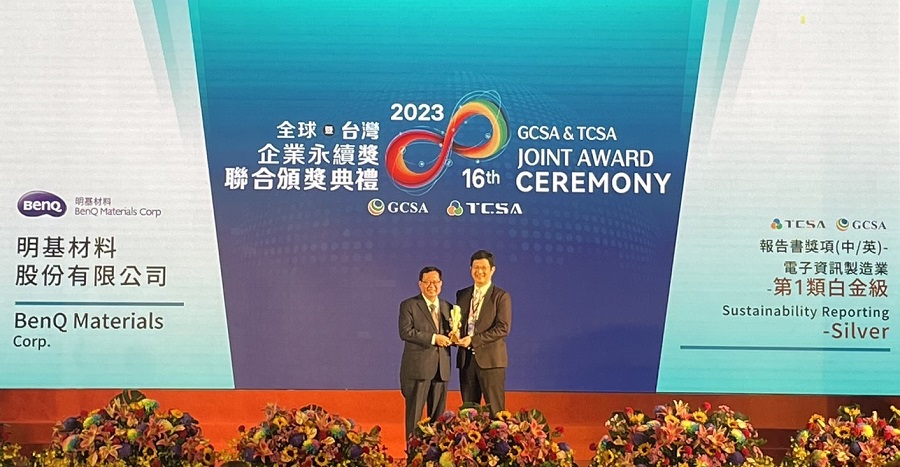 Bilingual ESG
BenQ Materials' commitment to transparency and stakeholder engagement is evident in its sustainability practices. The company's sustainability report is published in both Chinese and English, adhering to international standards such as GRI, SASB, and TCFD to ensure the credibility and comparability of its reported information. In conjunction with the publication of the sustainability report, BenQ Materials maintains an interactive ESG website in both languages, providing clients, investors, and authorities with easy access to relevant information.
TIPS for Security
Exemplified by its robust intellectual property and information security management system, BenQ Materials has a solid track record of protecting stakeholder rights. In addition to obtaining Grade A certification under Taiwan's Intellectual Property Rights Management Regulations (TIPS), the company has also obtained the ISO 27001 information security certification, demonstrating its compliance with the highest international standards in these areas.
Breathe Green
Environmental stewardship has been a core tenet of BenQ Materials for more than 20 years. It is a common thread that unites all employees. By embracing automation, advanced equipment, and the recycling of wastewater and heat discharge, the company continuously optimizes its manufacturing processes to achieve energy savings and carbon reductions. It has obtained product carbon footprint certification and was one of the first in the industry to introduce an internal carbon fee system, levying fees on business units based on comprehensive carbon inventory calculations of their emissions, and utilizing the funds to purchase green electricity and invest in green energy equipment.
Be Social
BenQ Materials has a long history of social engagement in local communities. Its Taiwan Agrifood Action Support program purchases crops from local indigenous communities and small farmers. Science Camp promotes science education in rural elementary schools, while the Vision HOPE Project provides free spectacles to disadvantaged families. Internally, BenQ Materials attaches great importance to human resources development and employee rights and has implemented human rights policies and welfare measures that exceed legal requirements so that employees can work in healthy environments with peace of mind.
Better Governance
BenQ Materials has intensified its efforts to enhance stakeholder transparency and completeness of information disclosure. Reinvigorated with this latest TCSA Platinum Award and the "GCSA Silver Award for Sustainability Report," the company continues to pursue energy transformation with the goal of achieving net-zero emissions by 2050 in sight.

Back to list