BenQ Materials Showcases its Car Sunroof Smart Optical Film Application in CES 2023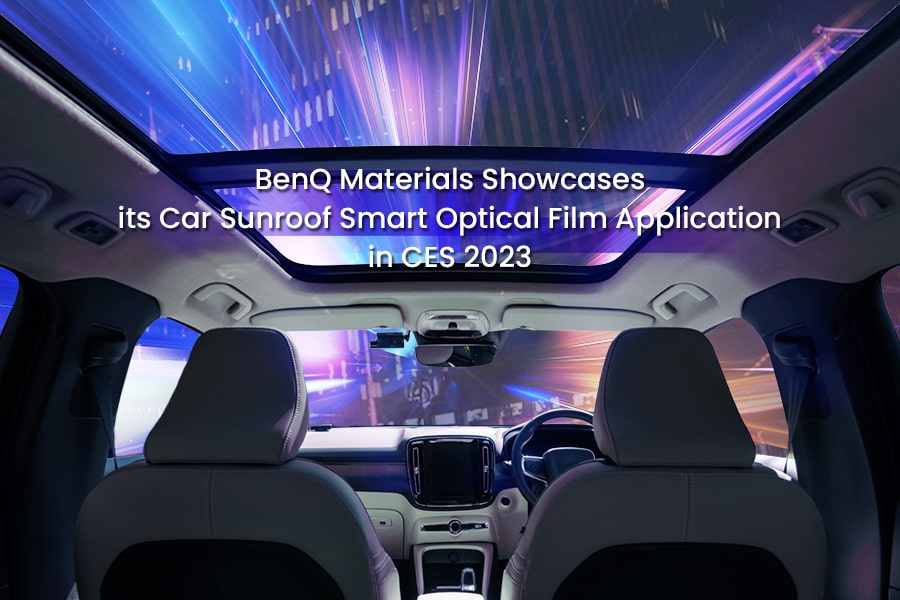 The CES (Consumer Electronics Show) 2023, one of the most influential tech events in the world, will take place from January 5th to January 8th in Los Vegas.
BenQ Materials' Smart Optical Film
PDLCteams up with
HCMF Group from Taiwan
to exhibit a series of PDLC car-sunroof applications, providing best solutions for vehicle space that satisfy requirements of weather resistance, security and see-through, privacy and etc. Through the co-exhibition, BenQ Materials, from material science leading company's point of view, will also share its observation and insights toward future development of
smart display
and
smart health care technology
.
The evolving global EV trend has spurred lots of innovation based on new materials, and the introduction of PDLC continues to push forward the development of enhanced privacy and see-through effect on car sunroofs. BenQ Materials' PDLC requires only 48V low voltage output, but achieves 70% see-through effect, 95% matte privacy effect, 99% anti-UV performance and 90% anti-infrared performance, creating value-added multiple functions for car sunroofs and enhancing in-car energy efficiency. In addition, BenQ Materials' PDLC manufacturing process is all solvent-free and waste-free, and compliant to the most restricted ISO standard. Enabling EV to realize aesthetics in future sense and excellent weather resistance under compliance of manufacturing safety specifications, BenQ Materials' PDLC is selected by many leading vehicle manufacturers as their designated material suppliers.
The CES 2023 is announced to focus on five critical topics including transportation, digital health, Web 3 and metaverse, sustainability and personal safety and showcase the latest technology and devices regarding AR/VR, metaverse, automotive electronics and etc. With leading material technology and capabilities in the realms of
smart vehicle
,
smart entertainment
and
smart work
, BenQ Materials continues to collaborate with clients to work out products with high display performance, eye protection, anti-glare, anti-reflection and high energy efficiency functions that also strike balance between environmental sustainability and compliance to car manufacturers' specifications of quality and weather resistance.
Please click
BenQ Materials' LinkedIn
for further insights and sharing.

Back to list